Most Popular! Give extra protection for your PC with our best selling Security Solution - Norton Internet Security.
Spam filtration and virus filtration done by SNMail is not the only essential Home/Business PC protection you need -Firewall Protection is essential against latest threats such as the Sasser virus and hack attacks.
Norton Internet Security 2004 presents the best complete solution to home/small business security currently available. In addition to SNMail's unbeaten protection against email based virus' and spam, Norton Internet Security protects against virus' downloaded via web browsing, trojan horse intrusion, direct hack attempts and much more. Also comprising web site filtering, personal information filtering and web site logging it is ideal for those needing to know and control how a machine is being used at home or work, to ensure a clean working machine, with personal information that stays private!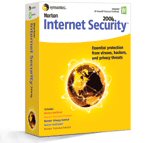 Essential protection from viruses, hackers, and privacy threats
Symantec's Norton Internet Security™
Provides essential protection from viruses, hackers, and privacy threats. Powerful yet easy to use, this award-winning suite now includes advanced spam-fighting software to filter unwanted mail out of your inbox. Protect yourself, your family, and your PC online with Norton Internet Security 2004.